Sandvik Coromant's 3D-printed CoroMill 390 cutter helped Flying S Inc. achieve six-times the productivity on MAX5 cast aluminum alloy than with previous tools.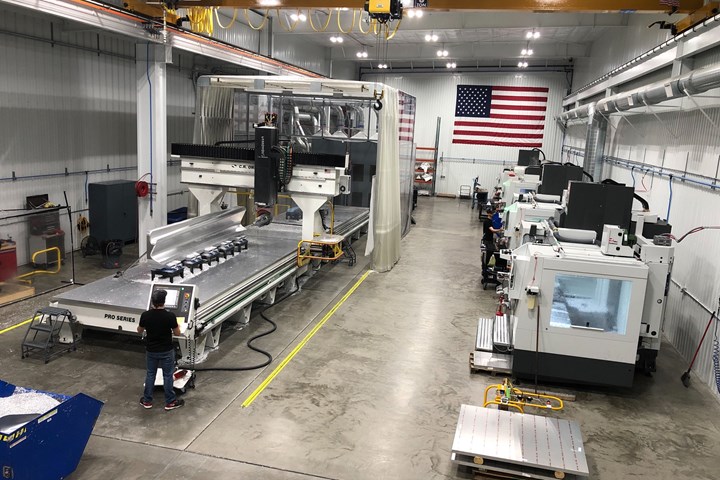 Located on a farm in Palestine, Illinois, Flying S does an eclectic mix of design and manufacturing, most of it centered around the aerospace sector. Recently, the shop took on a challenging job of removing more than 4,000 pounds of material for mold halves used to make dorsal fairings for Boom Supersonic's XB-1 aircraft.
Peter Bowman and the team at Flying S Inc. recently tackled a challenging project: machining two blocks of MAX5 cast aluminum alloy, a material that was new for the shop. Moreover, each block measured nearly 1-foot thick, 3-feet high, 13-feet long and 4,479 pounds, but would need more than 4,000 pounds of material removed to produce the 350-pound mold halves for the dorsal fairings of Boom Supersonic's XB-1 aircraft.
The fact that Bowman lacked the rigid machine tools and setup specifically designed to hog for hours didn't stop him from quoting the job. Instead, he had a custom-built, 41-foot-long Pro Series five-axis machining center from CR Onsrud that worked well for his composite milling and trimming applications, but its moving-gantry design, five-axis articulating head, and weldment construction was not intended for heavy stock removal. The Flying S team also planned to stand the mold halves on edge to machine both sides in a single setup, making the job ripe for chatter and deflection.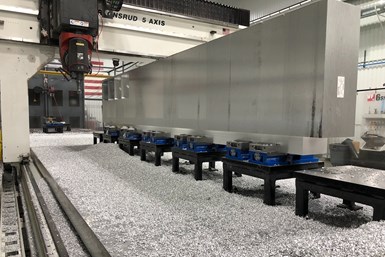 Before machining, the blocks of MAX5 cast aluminum alloy were 1 foot thick, 3 feet tall, 13 feet long and 4,479 pounds. Flying S needed to reduce these blocks to 350-pound mold halves.
"We knew we had a real challenge," Bowman says. While the team had previously machined parts in the vertical orientation to reduce setups and increase chip evacuation, it had only done so on smaller scales. MAX5 plate also proved a new challenge, despite experience machining aluminum with the Pro Series gantry. Additionally, the machine only used minimum quantity lubrication (MQL) instead of flood coolant, potentially risking built-up-edge (BUE) and chip evacuation issues. Another potential pain point came when the team needed to hang a 2-inch-diameter milling cutter on the end of a 10-inch extension to reach the bottom of the workpiece.
Reaching for success

"We've been using Sandvik Coromant tooling here for many years, and one of our go-to cutters is the CoroMill 790," Bowman says. He particularly praised its performance on deep aluminum molds for composites when combined with a 4- or 5-inch-long Capto extension. He knew that this application would be more challenging still, not only because of the deeper pockets, but also the volume of material the team needed to remove.
Bowman knew from the outset he would need a Silent Tool adapter, which is designed to minimize vibrations via a damper located inside the tool. According to Sandvik, these adaptors can contribute to major productivity increases and surface quality improvements, even with shorter overhangs. Bowman had used them on turning applications in the past, but never on a machining center, although he was sure it would provide the damping characteristics necessary for the dorsal fairing mold cavity. He was mostly right.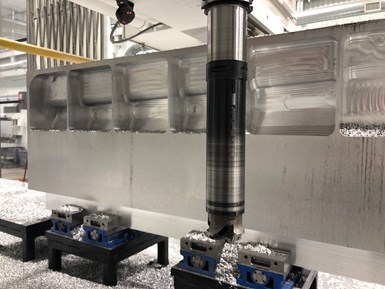 Flying S used a combination of the CoroMill 390 LW with the Silent Tool adapter to rough 10-inch-deep pockets and achieve a metal removal rate of 10.8 cubic inches per minute.
Even though the tool delivered on its name by eliminating chatter, test cuts combining the CoroMill 790 and Silent Tool adapter were unable to achieve the desired metal removal rates. The combined gage length was just shy of 12 inches for a 2-inch-diameter cutter. It was far from ideal, limiting the team to 0.100-inch axial depths of cut and about the same amount of stepover. The process took far too long, and resulted in BUE on the inserts. While Bowman thought he could solve the latter issue by moving to a polished insert, Sandvik Coromant's West and Central turning specialist Keith Brake suggested trying the LW CoroMill 390.
3D-Printed Titanium Cutters
Sandvik Coromant makes its lightweight (LW) CoroMill 390 cutter through additive manufacturing. The titanium, 3D-printed body boasts an optimized geometry and is less than half the weight of the steel body cutter it was replacing. The difference shocked Bowman. "The combination of CoroMill 390 and Silent Tool is incredible," he says. "It makes total sense to reduce the amount of rotating mass at the end of a long extension."
By dropping the cutting speed from 4,712 to 2,618 sfm, bumping the 150 ipm feed rate to 200 ipm, and increasing the stepover amount from 0.100 to 0.75 inch, Bowman saw a sixfold productivity increase. Tool life increased by an estimated five times as well, with smoother, quieter cutting to boot.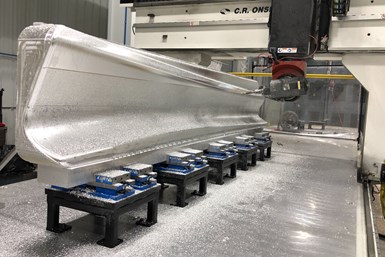 Machining the part standing vertically enabled Flying S to rough and finish both sides of the mold in one operation.
Bowman says the Silent Tool and LW CoroMill 390 are a perfect complement to its CR Onsrud router, and they provide Flying S with its greatest capacity yet. "In my opinion, we would have never been able to rough 10-inch-deep pockets without it, let alone achieve a metal removal rate anywhere close to the 10.8 cubic inches per minute we're currently seeing."
Flying S is pleased with the improved insert life and the lack of BUE, Bowman adds, despite the lack of flood coolant. The tooling combination even allowed Flying S to machine the part standing vertically — something in question from the quoting stage — so the company saved time roughing and finishing both sides of the mold in one operation. "We easily reached ROI on the first job, and are very interested in purchasing additional Sandvik Coromant tooling due to our success with this project," Bowman says.